Instruments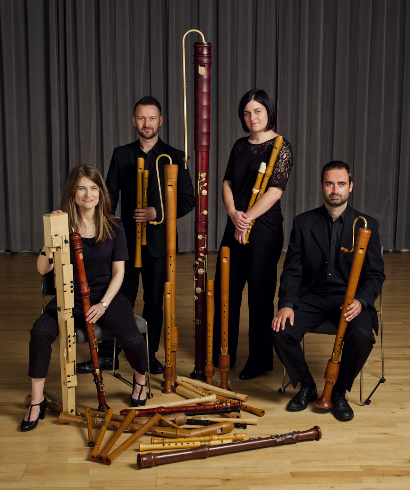 The Flautadors play a large number of recorders of various designs.
These different styles of instrument are chosen to match the music being performed. The recorder is, of course, well known as an instrument of early music and there is fantastic early repertoire for recorder quartet. By playing on copies of period instruments and keeping up with the current research in performance practice, The Flautadors seek to recreate the soundworld of the 15th-18th centuries.
Highly acclaimed for their performances of modern repertoire, The Flautadors are always on the look out for new works for recorder quartet. Much of their current contemporary repertoire uses the full range of the recorder family in a variety of combinations and demonstrates the variety of styles, colours and timbres employed by composers writing for this medium. Music from Japan, England, Scotland, Holland, Germany, Denmark, Estonia, and Russia is performed on instruments specifically selected from makers around the world.
The Flautadors perform on instruments by Blezinger, Cranmore, Kung, Moeck, Mollenhauer, Prescott, von Huene, Bodil Diesen, Coolsma, Jean-luc Boudreau and Yamaha.
The following are good sources for both instruments and music: Saunders Recorders, The Early Music Shop, and Recorder Music Mail
All content copyright © The Flautadors 2018